Spend less, learn more! Instant Immersion uses natural image association techniques to help you learn as easily as you learned your first language, and at a fraction of the cost of Ro***ta Stone.
With Instant Immersion, you will have more fun, save money and reach your goals faster - guaranteed!
The Complete Language Learning System
Whether you're learning a new language for school, work or your next vacation, Instant Immersion's fun and effective exercises, interactive activities and challenging quizzes will help you achieve language fluency in less time than other language systems. You will think, read and speak your new language with ease.

You get:

You will be able to:

2 Level 1 CD-ROMs
• Build your vocabulary
2 Level 2 CD-ROMs
• Get around with confidence
2 Level 3 CD-ROMs
• Converse with ease
3 Bonus Discs

•Understand everyday language
•Perfect your pronunciation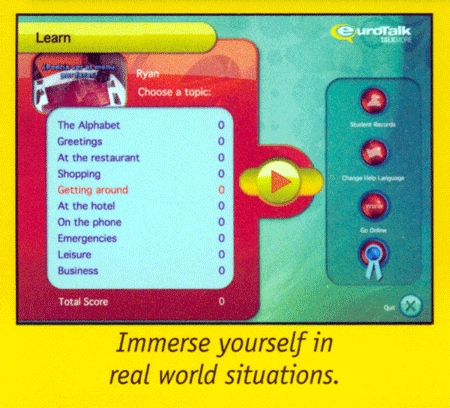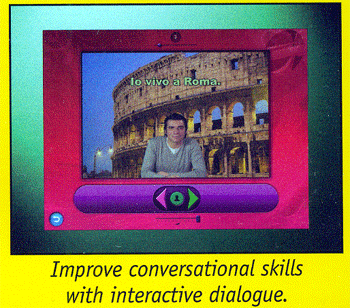 Level 1: Level 1 teaches you the essential words and phrases you will need in order to get around with ease. Learn basic vocabulary and everyday phrases in no time!
Level 2: Learn more complex phrases, correct pronunciation and how to converse in your new language. Talk about sports and hobbies, family, friends,work and more!
Level 3: Reach your language learning goals by immersing yourself in advanced conversations that will refine your language skills and help you retain what you learned.
Press play to start Learning

Language learning on your TV! Instant Immersion I-DVD is a fun, interactive game for the whole family!

Language immersion on the go

The Instant Immersion audio CD easily transfers to your iPod or MP3 player. It's perfect for students, vacationers or business travelers!

The ultimate Language adventure!

Unravel the clues in your new language with Who is Oscar Lake?, a mystery game with more than 70 hours of learning and 3 possible endings.
System Requirements:
PC: Microsoft Windows XP/Vista/Windows 7, Pentium IV 500 MHz or higher, 512 MB RAM, 1024x768 color display, Sound Card, CD-ROM drive, Microphone (recommended), iTunes 7 or higher.
Macintosh: OS X 10.3.9 or higher, 512 MB RAM, 1024x768 color display, CD-ROM drive, Microphone (recommended), iTunes 7 or higher.