The perfect learning tool for every youngster, this 10" illuminated globe will bring the world to life. In addition to the finest and most up-to-date cartography, this globe also displays more than 200 color graphics and comes with an explanatory booklet.
It also features Columbus' double map system: when the globe is unlit, the map displays the countries of the world in contrasting colors; after the light is turned on, the map also shows physical features. The globe is mounted on a sturdy molded plastic base and has an overall height of 13".
A practical and affordable globe that is ideal for every home or office.
Globe Detail: (Globe detail is from the German version. We sell only the English version. All words are in English on the globe that we send.)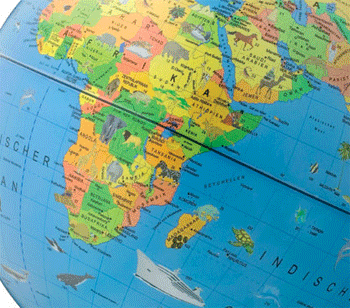 The longest established globe manufacturer in the world produces a superior line of hand-crafted and finely detailed globes. Their products are widely considered to be the best in the world and they have been awarded many honors.
Diameter: 10 inches
Finish: Blue
Height: 13 inches
Please Note:If you need UPS 2- or 3-Day shipping, please call for the cost. It is very expensive to ship via the faster delivery services.