Flat rate $3.49 Shipping in US
(for any number of items)
A satellite photo map of the world, which combines standard mapping with high-technology Landsat images.
Presented on a scale of 1:28,500,000.
This spectacular map is perfect for use in both home or office.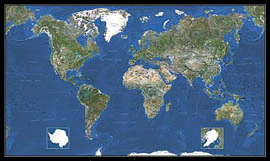 Pre-rolled wall map in shipping tube, 34 1/4" x 57 1/2"