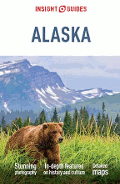 Insight Alaska Travel Guide
Price:
$24.99
You Save: $5.00 (20.01%)
From the World Leaders in Visual Travel Guides
Insight Guide Alaska includes a section detailing Alaska's history; seven features covering the life and culture of the state, ranging from its dark and frigid winters to its brown bears and salmon; a region by region visitor's guide to the must-see sights evaluated by Insight's travel experts; and a comprehensive Travel Tips section packed with essential contact information, websites, climate, money-saving tips, transportation, additional leisure-time activities, special events and more.
Plus more than 300 amazing, four-color photographs and a dozen maps including maps of Katmai National Park, Denali National Park, and Wrangell-St. Elias National Park.
Evocative photography Insight Guides are renowned for their great pictures, which vividly convey a sense of everyday life
Illuminating text Expert writers bring to life Alaska's history, culture, arts, politics and, above all, its people
Incisive evaluations From Mendenhall Glacier to Mount McKinley, from Anchorage to the Arctic Circle, we assess what will suit casual tourists or intrepid hikers
Detailed, cross-referenced maps All sites are clearly highlighted and numbered in relation to the text
Full listings All the travel details, hotels, restaurants and phone numbers you'll need
Published: October 2011
Need a great map of Alaska? The Rand McNally Map of Alaska is a great choice for all travelers.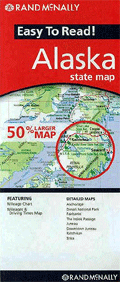 ISBN: 9781780050201