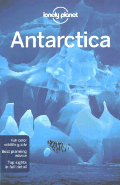 Lonely Planet Antarctica Travel Guide
Price:
$28.99
You Save: $5.80 (20.01%)
Best-selling, most comprehensive guide to Antarctica
Preserved for peace and science, this ice-crowned continent offers inspiration, adventure and perspective. Wildlife roams freely, icebergs crash into the sea, whales breach beside your ship. Simply put: the trip of a lifetime.
Inspirational photos including an Antarctic Wildlife feature
Clear, easy-to-use maps
Comprehensive planning tools including Planning Your Antarctic Adventure
Coverage Includes: Planning chapters, Southern Ocean, Antarctic Peninsula, Ross Sea, East Antarctica, the South Pole, Understand and Survival chapters
Welcome to another planet. Its name is Antarctica, and it's not so far from where you live. Feel the salty spritz of the sea from the smack of a nearby whale tail, be dwarfed by white mountains and deafened by chattering penguin colonies, sail inside a restless volcano - you'll wonder who the genius was who thought up Antarctica.
Publication Date: December 2012
Next Edition Due: November 2017
ISBN: 9781741794595