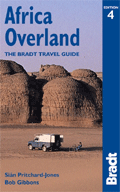 Bradt Guide Africa Overland Travel Guide
Price:
$24.95
$19.96
You Save: $4.99 (20.00%)
4x4 | Motorbike | Bicycle | Truck
Exploring Africa independently by traveling overland is an increasingly popular way of seeing this massive and varied continent.
Travelers can relish the freedom of the road with this thoroughly updated guide, covering the continent's most memorable landscapes on a country-by-country basis, from Morocco to South Africa, with route and regional maps.
Comprehensive planning and preparation tips are combined with health and security advice. Suggested routes and border crossings for each country, including accommodation, food and culture, make this a practical bible for independent Travelers
Comprehensive and up-to-date advice on planning and preparation
Terrain driving techniques and fault-finding guidelines
Personal anecdotes from the authors' own experience
Accommodation, food and cultural considerations
Route suggestions and maps
About the Authors:
Authors Siân Pritchard-Jones and Bob Gibbons have updated this new edition of Africa by Road. They have traveled extensively overland in Africa, running several expeditions en-route. Their combined travel experience spans all corners of the globe and has included working as guides and drivers on coach tours, leading mountain treks and operating cycle trips and desert expeditions.
ISBN: 1 84162 135 8