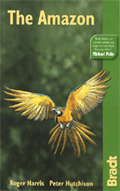 Bradt Amazon Guide Travel Guide
Price:
$25.99
You Save: $5.20 (20.01%)
A Bradt Companion Guide
The world's greatest river flows from its source high in the Peruvian Andes through mountains, cloudforest and lush rainforests to its final destination on Brazil's eastern shores. Long associated with exploration and adventure, the Amazon is also rightly treasured for its biodiversity. The Bradt Guide to The Amazon describes every aspect of travel in this unique region.
All Countries of the Amazon basin and Orinoco included.
Detailed - illustrated natural history section.
Gateway - Towns with the best access to the river.
Preparation - Planning and practical details along with clear regional and town maps.
Whether you are taking a leisurely riverboat trip or organizing your own expedition, wish to learn about the area's flora and fauna or the people living along the river's route, this book is invaluable.
ISBN: 9781841621739