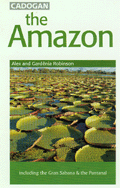 Cadogan The Amazon Travel Guide
Price:
$24.95
You Save: $4.99 (20.00%)
Including the Gran Sabana & the Pantanal
Cadogan is the perfect companion to one of the world's most exciting regions, showing the history and tradition at the root of today's vibrant, multicultural society
Full Color - Photo essay provides a magnificent introduction to one of the most beautiful regions on earth.
Flora - fauna and birding: Authoritative, illustrated essays from rain forest experts and experienced guides: where to find the best birding facilities and the rarest species.
Discerning - Comprehensive advice on ecotourism and sensitive ecological issues.
The mighty Amazon dwarfs all other rivers in the world; her forests are as diverse as her countless tributaries and support an unparalleled variety of wildlife. Cadogan's Guide to the Amazon hunts out remote lodges in pristine forest and penetrates spectacular national parks studded with waterfalls, where the chances of seeing rare species are highest.
Whether you want to climb the vertical Inca ruins of Machu Picchu, see the sun slip over Bela Dormicida mountain, stay with Ticuna Indians in Brazil, or discover a it your name, the Cadogan Guide is simply indispensable.
Employee Recommended !
ISBN: 1-86011-983-2