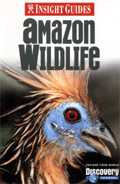 Insight Amazon Wildlife Travel Guide
Price:
$22.95
You Save: $4.59 (20.00%)
Brought to You by the The World Leaders in Visual Travel Guides and the Discovery Channel
Includes:
Evocative Photography - Insight Guides are renowned for their evocative pictures, which vividly convey a sense of everyday life.
Illuminating Text - Expert writers bring to life the geography, indigenous peoples, and, above all, the unique flora and fauna.
Incisive Evaluations - From the source of the Amazon in the Andes to the bustling docks of Manaus, and from the pristine national parks to massive industrial projects, it's all here.
Detailed, Cross-referenced Maps - Useful plans of countries, habitats and main cities.
Full Listings - All the travel details, hotels, restaurants, and phone numbers you'll need.
Insight Guide: Amazon a provides everything you'll ever need in a guidebook. It is an inspiring background read, an invaluable on-the-spot companion and a superb souvenir of your visit.
Published; August 2002
ISBN: 9781585736027