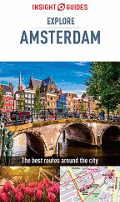 Insight Amsterdam City Guide Travel Guide
Price:
$15.95
You Save: $3.19 (20.00%)
The Guidebooks that take the place of a tour guide!
Amsterdam Insight City Guide provides everything you'll ever need in a guidebook. It is an inspiring background read, an invaluable on-the-spot companion and a superior souvenir of your visit
Evocative photography - Insight Guides are renowned for their great pictures, which vividly convey a sense of daily life
Illuminating text - Expert writers bring to life Amsterdam's history, culture, arts, politics and, above all, its people
Incisive evaluations - From Amsterdam's beautiful gabled architecture and peaceful canals to the seediness of its Red Light District and characterful cafés, it's all here
Detailed, cross-referenced maps - All sites are clearly highlighted and numbered in relation to the text
Full listings - All the travel details, hotels, eating places and phone numbers you'll need
Insight City Guide Amsterdam features illuminating text, incisive evaluations, evocative photography, area maps and street atlases, offering real insight into Amsterdam's history, culture, arts, and above all, its people.
Published: September 2004
Need a great map of Amsterdam? The Insight Fleximap of Amsterdam is a great choice!
ISBN: 9789814137485