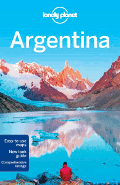 Lonely Planet Argentina Travel Guide
Price:
$27.99
You Save: $5.60 (20.01%)
Includes Chilean Patagonia
Think of Argentina and it quickly becomes apparent why the country holds travelers in awe. Tango, gauchos, futbol, Patagonia, the Andes - the classics alone make a formidable wanderlust cocktail.
Comprehensive planning tools
Outdoors feature
Pull-out Buenos Aires city map
Coverage of neighboring Uruguay and Chilean Patagonia
Coverage Includes: Planning chapters, Uruguay, Buenos Aires, Bariloche, the Lake District, Cordoba, the Central Sierras, Iguazu Falls, the Northeast, Mendoza, the Central Andes, The Pampas, the Atlantic Coast, Patagonia, Salta, the Andean Northwest, Tierra del Fuego, Understand and Survival chapters.
Let this guide to Argentina send you on a wild ride. Once you've cracked the unspoken code of Tango, you can cycle the vineyards of Mendoza, witness icebergs crashing into Lago Argentino and explore the wilds of Quebrada de Humahuaca - complete with your own pack-carrying llama.
Published: September 2014
Next Edition: August 2016
Need a great map of Argentina? The Michelin Map of Argentina is a great choice.
ISBN: 9781742207865