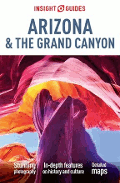 Insight Arizona & Grand Canyon Travel Guide
Price:
$23.99
You Save: $4.80 (20.01%)
Brought to You by the The World Leaders in Visual Travel Guides and the Discovery Channel
This book provides everything you'll ever need in a guidebook. It is an inspiring read, an invaluable on-the-spot companion and a wonderful souvenir of your visit.
Evocative Photography - Insight Guides are renowned for their evocative pictures, which vividly convey a sense of everyday life.
Illuminating Text - Expert writers bring to life the region's history, culture, parks, arts, food and, above all, it's people.
Incisive Evaluations - From the overwhelming beauty of the Grand Canyon and Indian Country to the bustle of Phoenix and Tucson, it's all here.
Detailed, Cross-referenced Maps - All sights are clearly highlighted and numbered in relation to the text.
Full Listings - All the travel details, hotels, restaurants, and phone numbers you'll need.
Insight Guide Arizona & the Grand Canyon includes a section detailing the natural and cultural history of the state with picturesque pages covering various aspects of the life and culture. Also, a complete guide to the sights worth visiting covering the breathtaking Grand Canyon and various monumental landscapes illustrated with high quality pictures. A comprehensive information section packed with essential tips on travel, hotels, shops, restaurants. An easy to find contents list for practical travel tips is printed on the back flap. Plus, stunning photographs on every page and 12 essential maps.
Published: April 2012
Need a great map of Arizona? We recommend the Rand McNally Map for an easy, trouble-free vacation.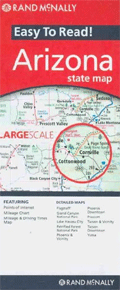 ISBN: 9781780050515