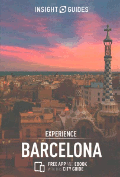 Insight Barcelona City Guide Travel Guide
Price:
$19.99
You Save: $4.00 (20.01%)
Includes Two Barcelona Street Atlases - one with hotels & restaurants and one with principal sights & attractions
Insight City Guide Barcelona is your comprehensive guide book to one of the world's most-visited cities. From the best spots to view the city to the incredible architecture to where to sample local food, a"Best Of Barcelona" section outlines what not to miss in the city.
Features by local writers cover a whole range of subjects, including how building projects have rejuvenated the city's image, where to immerse yourself in the art of Picasso, Miró and Tàpies, Catalan food and up-and-coming wine labels. The travel tips give lots of practical information about what's on when you're there, and will help you get around, and find the best places to stay and to eat.
It covers places such as Barri Gotic, El Raval and The Eixample; and information panels on the Catalan language, urban spaces, Gracia and the Barcelona Olympics. This guide also includes travel tips for transport, accommodation, activities and practical information, and twelve area maps.
Illuminating text Expert writers offer real insight into Barcelona's history, culture, politics, arts and, above all, the people
Incisive evaluations From stunning modernista architecture to buzzing La Rambla and the atmospheric squares of the Barri Gotic, it's all here
Evocative photography Insight Guides are renowned for their great pictures, which vividly convey a sense of everyday life
Pictorial guides to major attractions Photo-features show you around sights such as the Sagrada Familia and the Palau Nacional
Area maps plus street atlas Main sites are cross-referenced by number from text to maps and a street atlas provides the overall picture
Full listings All the travel details, hotels and contact numbers you'll need
Published: April 2012
Need a great map of Barcelona? The Borch Map of Barcelona is a great choice for all travelers! It's laminated for durability - and you can mark it with a magic marker.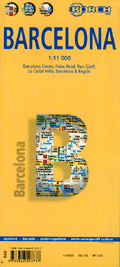 ISBN: 9781780050553