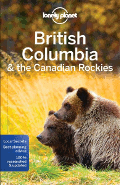 Lonely Planet British Columbia & The Canadian Rockies Travel Guide
Price:
$24.99
You Save: $5.00 (20.01%)
Includes Alberta's Banff National Park
Soul-stirring mountains, mist-shrouded forests and epic tooth-and-claw wildlife – this is Canada's grand outdoor wonderland. And it's served alongside a full menu of cool, ever-welcoming communities.
Lonely Planet will get you to the heart of British Columbia & the Canadian Rockies, with amazing travel experiences and the best planning advice:
inspirational images, author recommendations and the best of local knowledge
planning features and top itineraries to help you plan the perfect trip
local secrets and hidden travel gems that will make your trip unique
plus National & Regional Parks, Outdoor Activities, Aboriginal Cultures and Wildlife
Coverage includes: Planning chapters, Yukon Territory, Alberta, British Columbia, Understand and Survival Guide.
Published: May 2014
ISBN: 9781742207452