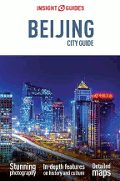 Insight Beijing City Guide Travel Guide
Price:
$19.99
You Save: $4.00 (20.01%)
AVAILABLE OCTOBER 2013
Insight City Guide Beijing is a comprehensive travel guide to this historic and exciting city. From shopping for Mao merchandise to discovering Beijing's contemporary art scene, this book will make sure you have the quintessential Beijing experience.
Features by local writers delve into everything from life in the New China, to religion, and food and drink. Full-color photography and maps help you navigate with ease and bring the destination to life. Our detailed Travel Tips gives you all the practical information and travel advice you need to plan what to do on your trip, including selective listings for hotel and restaurants.
A chapter on shopping covers Wangfujing and Tianjin Antiques Market. Photo features include the Beijing Opera, Parks and Leisure, and Building the Wall. Other sections feature people, religion, food and drink, and the arts in Beijing.
Travel tips and twelve area maps make navigation easy. This book also includes a removable Beijing Insight Restaurant Guide.
Illuminating text Expert writers offer real insight into Beijing's history, culture, politics, arts and, above all, its people
Incisive evaluations From the Forbidden City to the Great Wall, from Daoist temples to the glitzy shopping centers of Wangfujing, it's all here
Evocative photography Insight Guides are renowned for their great pictures, which vividly convey a sense of everyday life
Pictorial guide to the Best of Beijing Selected highlights of the city, including recommended family attractions, nightlife and shopping
Area maps plus street atlas Main sites are cross-referenced by number from text to maps and a street atlas provides the overall picture
Full listings All the travel details, hotels and contact numbers you'll need
Published: October 2013
Carry a great map of Beijing on your vacation or business trip. We recommend the Borch map of Beijing. It is laminated for durability and packed with incredible detail of the tourist sights.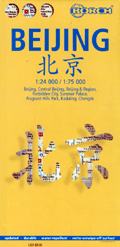 ISBN: 9781780051734