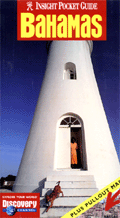 Insight Bahamas Pocket Travel Guide
Price:
$12.95
You Save: $2.59 (20.00%)
From the World leaders in Visual Travel Guides and the Discovery Channel
This is the guide that answers the questions you'd ask a friend who lived in the Bahamas. Which places are really worth seeing? What excursions shouldn't be missed? Written by a local host, it is based on intimate knowledge of the country.
History & Culture - Bahamas' past and present explained in a nutshell.
Itineraries - Twelve full-day itineraries explore the top attractions and hidden corners of the main islands : New Providence , Paradise Island, Eleuthera, the Family Islands and Grand Bahamas.
Tips on what to buy, where to eat, and where to stay out late.
Map - Detailed pullout map gives an overview of the tours and can also be used independently of the guide.
Published: January 1998
Need a great map of the Bahamas? The Insight Fleximap of the Bahamas is a great choice for all travelers.
ISBN: 9780887298325