Insight Bangkok Travel Guide
Price:
$19.99
You Save: $4.00 (20.01%)
From the Leaders in Visual Travel Guides and the Discovery Channel
Full-color travel guide to the capital of Thailand, with comprehensive descriptions of all sights and attractions, and clearly presented practical information. Full-color photographs and maps throughout, a comprehensive street atlas section and a handy orientation map on the inside front cover.
The Features section focuses on Bangkok's history and its people and culture, from the creative arts to food and nightlife. The Places section covers the main areas of the city that visitors will want to see, plus excursions to coastal and inland areas nearby.
Evocative Photography - Insight Guides are renowned for their evocative pictures, which vividly convey a sense of everyday life.
Illuminating Text - Expert writers bring to life Bangkok's history, culture, landscapes, and, above all, it's people.
Incisive Evaluations - From the majesty of the Grand Palace to the bustle of Chinatown, from the refinement of Jim Thompson's House to the gaudy streets of Patpong, it's all here
Detailed, Cross-Referenced Maps - All sights are clearly highlighted and numbered in relation to the text.
Full Listings - All the travel details, hotels, restaurants, and phone numbers you'll need
Insight Guide Bangkok includes a section detailing Bangkok's history, 9 features covering aspects of the type's life and culture, ranging from shopping to cultural arts, a region by region visitor's guide to the sights, and a comprehensive Travel Tips section packed with essential contact addresses and numbers. Plus 17 maps and many remarkable photographs.
Published: May 2011
Need a great map of Bangkok? The Globetrotter Map of Bangkok is a great choice for all travelers.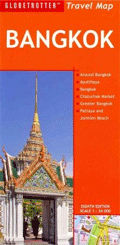 ISBN: 9789812823168