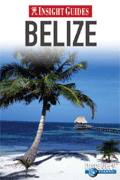 Insight Belize Travel Guide
Availability:
Out of Stock
Price:
$23.95
You Save: $4.79 (20.00%)
From the World Leader of Visual Travel Guides
Belize Insight Guide covers top attractions such as Ambergris Caye, the Barrier Reef, the Blue Hole, and Victoria Peak, as well as areas of interest such as Belize City, Orange Walk District, and Tobacco Reef.
A section on Maya sites details Cahal Pech, Caracol and Pacbitun, and a section on wildlife reserves covers Community Baboon Sanctuary, Hol Chan Marine Reserve, and the Chiquibul Forest Reserve. Other sections cover accommodations, transportation, food, outdoor activities, and more. This guide also includes twelve area maps.
Published: September 2008
ISBN: 9789812589958