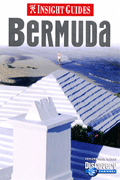 Insight Bermuda Travel Guide
Price:
$23.95
You Save: $4.79 (20.00%)
From the World leaders in Visual Travel Guides and the Discovery Channel
Insight Guide Bermuda provides everything you'll ever need in a guidebook. It is an inspiring background read, an invaluable on-the-spot companion and a superior souvenir of your visit.
Evocative Photography - Insight Guides are renowned for their great pictures, which vividly convey a sense of everyday life.
Incisive Evaluations - From the historic squares of St. George's to the shopping streets of Hamilton, from the breathtaking Crystal Caves to the glorious coastline of the South Shore, it's all here!
Detailed Cross-referenced Maps - All sites are clearly highlighted and numbered in relation to the text.
Full Listings - All the travel details, hotels, restaurants, and phone numbers you'll need!
Insight Guide Bermuda features sections on areas of interest such as Castle Harbour, Hamilton, and Ordnance Island, as well as major parks and beaches, such as Mangrove Bay, Victoria Park and Spittal Pond. A chapter on top attractions covers the Bermuda Aquarium, Crystal Caves, Spanish Rock and the Bermuda Perfumery, and a chapter on museums covers Heritage Museum, the Natural History Museum, and the Bermuda Maritime Museum.
Other sections cover forts, churches, important sites, transportation, accommodations, eating, nightlife, shopping, culture, sports, and more. This guide also includes seven area maps.
Published: April 2006
ISBN: 9781585731473