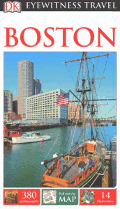 DK Eyewitness Boston Travel Guide
Price:
$20.00
You Save: $4.00 (20.00%)
The Guides That Show You What Others Only Tell You
DK Eyewitness Travel Guide: Boston will lead you straight to the best attractions Boston has to offer. You'll find detailed background information on the best things to do in Boston, from visiting historic Harvard University and taking one of many walking tours to watching a Boston Red Sox game.
This best-selling travel guide is packed with beautiful cutaways and floor plans of all Boston's major sights, as well as 3-D aerial views of its most interesting districts. Features include the itinerary planner, Four Great Days Out in Boston, Street Finder mapping throughout, and a pull-out map with detailed sheet maps and useful transportation information.
DK Eyewitness Travel Guide: Boston is fully updated and expanded, with dozens of reviews for hotels in Boston, recommended restaurants, and tips for shopping, entertainment, and where to go for a beer at the end of the day.
Don't miss a thing on your vacation with the DK Eyewitness Travel guidebook to Boston.
Packed with Full Color Photographs taken especially for this guide show you Boston at it's best.
Unique cutaways and floor plans help you explore public buildings and landmarks-No Need to purchase other guides.
Huge Selection of Hotels, Restaurants, Shops, and Entertainment Venues
Detailed and accurate Street Finder maps give you instant access to each district.
Three Specially devised walking tours
Four Great Days in Boston
Published: May 2015
Need a great map of Boston? The Streetwise Map of Boston is a great choice for all travelers.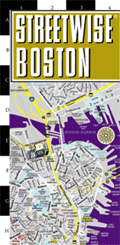 ISBN: 9781465439413