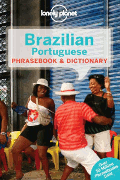 Lonely Planet Brazilian Phrasebook Travel Guide
Price:
$8.99
You Save: $1.80 (20.02%)
A Lonely Planet Language Survival Kit
Wrap your tongue around this tasty phrasebook, complete with tips for pronunciation and grammar, two-way dictionary and snappy sentence builder. You'll also find communication tips and cultural information - Brazilliant!
Responsible travel talk
Health and emergency section
Useful phrases for finding accommodation
Coverage Includes: Introduction, Basics, Practical, Social, Food, Safe Travel, Dictionary and Sustainable Travel.
Published: January 2014
ISBN: 9781743211816