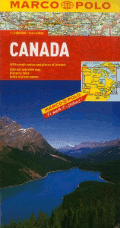 Marco Polo Canada Travel Map
Price:
$11.95
You Save: $1.19 (9.96%)
Marco Polo maps feature completely up-to-date, digitally generated mapping. The high quality cartography with distance indicators and scale converters aid route planning.

A fold-out overview map is ideal for route planning and 7 self-adhesive Marco Polo mark-it stickers can be used to pin-point a destination or route for future reference. Scenic routes and places of interest are highlighted - ideal for touring holidays. Comprehensive index. The map scale is 1: 4 000 000.
A fold-out extension of the map cover gives at-a-glance overview of the whole area covered by the map with the adjoining regions, highlighting main places of interest and making it much easier to find various localities on the main map and/or plan a route. A set of seven peel-on/peel-off stickers, removable without damaging the map, is provided to make routes or locations more prominent when navigating.
Topography is shown by relief shading with spot heights and plenty of names of mountain ranges, plateaux, etc. Coverage extends to 74 degrees north to include the whole of the Northwest Passage, and in the central part of the map beyond it to show parts of the Melville, Bathurst and Devon Islands.
Locations of interest are prominently highlighted, with separate coloring for towns or villages and for natural sites including the country's main national parks. Other provincial parks or protected areas as well as Indian Reservations are also marked. Adjoining regions of USA are similarly presented. Provincial and, in the US, state boundaries and time zones are marked. Road network varies according to the density population. Railways and ferry routes are marked. The map has latitude and longitude lines at intervals of 2 degrees. Multilingual map legend includes English.
Extensive index, covering both Canada and the adjoining regions of USA, is in a separate 48-page booklet attached to the map cover and lists town and villages plus natural features: rivers, lakes, mountains, etc. Also provided is a separate list of World Heritage Sites, an extensive list of national, provincial or state parks and other protected areas, plus a distance table for main Canadian cities.
Published 2012
ISBN: 9783829767347