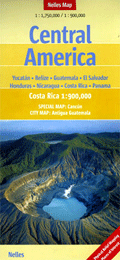 Nelles Central America Travel Map
Price:
$13.95
You Save: $1.39 (9.96%)
Includes an inset map of Costa Rica
Nelles Verlag, out of Germany, offers top quality cartography. Added relief mapping for country maps, kilometer charts and clearly labeled tourist attractions make them top choices for travel or study.
This two-sided map covers Central America from Mexico border south to the northern edge of Colombia. It includes:
Guatemala
Belize
El Salvador
Honduras
Nicaragua
Costa Rica
Panama
The scale of the Central America mapping is 1:1,750,000
There is a separate inset map of Costa Rica at a scale of 1:900,000
There are also inset maps of Cancun and Antigua (Guatemala).
ISBN: 9783865742100