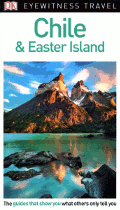 DK Eyewitness Chile & Easter Island Travel Guide
Price:
$25.00
You Save: $5.00 (20.00%)
The Guides that Show You What Others Only Tell You
DK Eyewitness Travel Guide: Chile & Easter Island is your indispensable guide to this beautiful part of the world. This fully updated guide includes street maps of cities and towns, plus unique illustrated cutaways, floor plans and reconstructions of the must-see sights.
Vibrant full-color photography will help you visualize your destinations as you discover Chile and Easter Island one region at a time. Detailed listings will inform you of the best hotels, restaurants, bars, and shops for all budgets. Explore local festivals and markets, day trips and excursions, gorgeous beaches and national parks, and find your way effortlessly around the region. DK's insider tips and cultural insight will help you explore every corner of Chile and Easter Island, as if you were a local.
Packed with Photographs, Illustrations and Maps
The Flavors of Chile - Local Produce and Classic Dishes
Includes Wine Tours, Cruises and Whale Watching
Huge Selection of Hotels and Restaurants
Sights, Markets, and Festivals listed Town by Town
Street-by-street walks and scenic drives
And with a section on the many outdoor activities that Chile has to offer, this is a guide not to be missed.
Published: February 2016
ISBN: 9781465441010