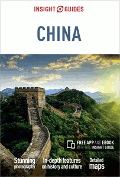 Insight China Travel Guide
Price:
$24.99
You Save: $5.00 (20.01%)
Brought to You by the The World Leaders in Visual Travel Guides and the Discovery Channel
Insight Guide China is a handsome, full color 480-page guidebook offering in-depth coverage of this enigmatic destination.
Following on from the inspirational Best Of China section, the first 100 pages comprise a series of essays describing China's long history and its fascinating culture, with new features on the environmental, red tourism and the infrastructure boom.
The Places chapters contain descriptive region-by-region accounts of all the sights worth seeing across the length and breadth of the country. Chinese characters are included for towns, cities, significant sights and restaurants, and also appear on the 36 maps.
The Travel Tips contain all the practical information you'll need to make the most of your trip, including our selection of the best accommodations and restaurants.
Evocative Photography - Insight Guides are renowned for their evocative pictures, which vividly convey a sense of everyday life.
Illuminating Text - Expert writers bring to life China's history, culture, arts, politics, and, above all, it's people.
Incisive Evaluations - From the Imperial Palace to the caves of Mogao, from the spires of Guilin to the towers of Hong Kong, it's all here!
Detailed, Cross-Referenced Maps - All sites are clearly highlighted and numbered in relation to the text.
Full Listings - All the travel details, hotels, restaurants, and phone numbers you'll need.
Insight Guide China includes a section detailing China's history, 8 features covering aspects of the country's life and culture, ranging from traditional medicine to ornate pagodas, a region by region visitor's guide to the sights, and a comprehensive Travel Tips section packed with essential contact addresses and numbers. Plus 21 maps and many incredible photographs.
Published: April 2013
ISBN: 9781780051352