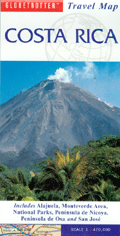 Globetrotter Costa Rica Travel Map
Price:
$8.95
You Save: $0.89 (9.94%)
Includes Alajuela, Monteverde Area, National Parks, Península de Nicoya, Península de Osa and San José
This user-friendly travel map has been specifically designed for visitors as a practical and informative guide to Costa Rica. More than just a map, it includes detailed street plans of major towns and large-scale projections of popular tourist destinations.
This two-sided map of Costa Rica is presented at a scale of 1:470,000. It includes an index of place names, has regional climate charts and includes a few color photographs.
Do you need a great guide book to Costa Rica? The Costa Rica Insight Guide is a great choice. It is visually stunning, is packed with great information about the country, and makes a great souvenir of your trip.
ISBN: 1845371984