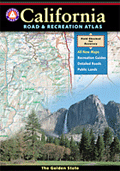 Benchmark California Road & Recreation Atlas Travel Map
Price:
$24.95
You Save: $2.49 (9.98%)
Benchmark Maps- Your Atlas to the Great Outdoors!
Easy-to-read land forms and complete, comprehensive roads show you where you are and what lies around you, whether you are sailing up the Interstate or navigating dirt roads in the back country Our field checking identifies the latest suburban cutoffs and the back country roads you can actually use - but we still show all those logging roads and 4-wheel trails for determined adventurers!
Every Road from Interstate freeways to four-wheel-drive backroads.
All Rivers, streams, lakes, and marshes.
Campgrounds, parks, and points of interest.
Recreation guide for each of the recreation and public lands maps!
Includes Latitude and Longitude grid for GPS coordinates!
California is a land of startling contrasts: dense forests, sandy beaches, sun-scorched deserts, alpine mountains, fruitful valleys. It also boasts two of the world's premier destination cities, Los Angeles and San Francisco. The one map product that truly captures the entire scope of this magnificent state is Benchmark's California Road & Recreation Atlas. The Landscape Maps have a new, brighter look, making them even easier to read. California is the last state in the country to add freeway exit numbers and now they are included on all of the Landscape Maps and Metro Maps. Every page also benefits from Benchmark's exhaustive field and fact checking—unparalleled in the industry.
ISBN: 9780929591490