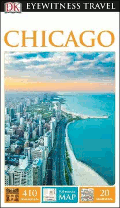 DK Eyewitness Chicago Travel Guide
Price:
$20.00
You Save: $4.00 (20.00%)
The Guides that SHOW You What Others Only TELL You
Eyewitness Guides are marvels of writing, color photography, and illustration!
In this guide to Chicago, you get:
Fabulous photographs, illustrations, and maps
Floor plans of the major museums
3-D aerial views of Chicago's most interesting areas
Where to eat, where to stay, and how to get around
Includes a section on Traveler's Needs and a Survival Guide
This eyewitness travel guide helps you get the most from your stay in Chicago with the minimum of practical difficulty. It is lavishly illustrated, gorgeous, entertaining and enlightening. Covers Architecture, Shops, Art Galleries, Blues, Restaurants, Festivals, Taverns, Sports, and more!
Published: January 2017
ISBN: 9781465457097