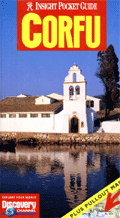 Insight Corfu Pocket Travel Guide
Price:
$13.95
You Save: $2.79 (20.00%)
Everything You Need is in This Book
Pocket Guide Corfu answers the questions you'd ask a friend who lived on Corfu. Which attractions are really worth seeing? What excursions shouldn't be missed? Written by Insight's expert on Greece, it is based on intimate knowledge of the island.
Tailor Made Excursions - 17 itineraries cover the island, linking essential sights but also venturing off the beaten track.
History & Culture - Corfu's past and present explained in a nutshell.
Essential - practical information on hotels, climate, currency, getting around, useful addresses, etc.
Maps - Detailed pull-out map gives an overview of the tours and can be used independently of the guide.
Pocket Guide Corfu includes a chapter detailing Corfu's history and culture, 17 itineraries taking in sights ranging from The Historic Center to The Wild, Woolly East, leisure-time suggestions, and a comprehensive information section packed with essential contact addresses and numbers. Plus many high quality photographs and 8 maps, including a detailed pull-out map.
Published: 2001
ISBN: 9781585730919