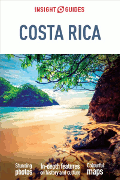 Insight Costa Rica Travel Guide
Price:
$22.99
You Save: $4.60 (20.01%)
Brought to You by the Discovery Channel
Insight Guide Costa Rica is a comprehensive, full-color travel guide to a country famous for its natural environment.
Be inspired by the Best of Costa Rica section highlighting unmissable sights and experiences and lavish Photo Features on topics such as indigenous plants and birds, volcanoes, extreme sports, and art and crafts.
A detailed Places section, with stunning travel photography and full-color maps, shows you where to go and what to do, from the exquisite beaches of the Pacific and Caribbean coastlines to the vast grasslands and volcanoes of the north.
A comprehensive Travel Tips section gives you all the travel advice you need to plan your trip, with our selective, independent reviews to guide you to the most authentic hotels, eco-lodges, and restaurants.
Evocative Photography - Insight Guides are renowned for their great pictures, which vividly convey a sense of everyday life.
Illuminating Text - Expert writers bring to life Costa Rica's history, culture, flora and fauna, and, above all, its people.
Incisive Evaluations - From Montezuma's beaches to Monteverde's cloud forests, from San Jose's bustle to the wonders of the national parks, it's all here!
Detailed, Cross-referenced Maps - All sites are clearly highlighted and numbered in relation to the text.
Full Listings - All the travel details, hotels, eating places, and phone numbers you'll need.
Insight Guide Costa Rica includes a section detailing Costa Rica's history, 8 features covering the country's life and culture, ranging from the spectacular plant life to the best coffee in the world, a region by region visitor's guide to the sights, and a comprehensive Travel Tips section packed with essential contact addresses and numbers. Plus 7 maps, including a National Parks and Reserves map, and many impressive photographs.
Published: July 2013
Need a great map of Costa Rica? The National Geographic Map of Costa Rica is a great choice for all travelers.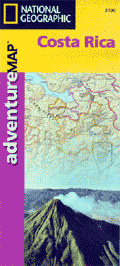 ISBN: 9781780051635