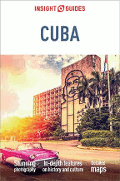 Insight Cuba Travel Guide
Price:
$24.99
You Save: $5.00 (20.01%)
From the World leaders in Visual Travel Guides and the Discovery Channel
An amazing full-color guide to the whole of this fascinating island and its iconic leader! Insight Guides successfully cover a destinations history, People, and Culture in more detail and with more color photos than any other guidebook.
This guide covers the whole of Cuba, with full-color photographs and maps throughout, a detailed Places section that includes insider recommendations to the best sights, and practical Travel Tips section to help plan your trip and navigate the island when you arrive.
Evocative Photography - Insight Guides are renowned for their great pictures, which vividly convey a sense of everyday life.
Incisive Evaluations - From Havana;s busy streets to the fields of Vinales, from Varadero's beaches to the Sierra Maestra mountains, it's all here!.
Detailed Cross-referenced Maps - All sites are clearly highlighted and numbered in relation to the text.
Full Listings - All the travel details, hotels, restaurants, and phone numbers you'll need!
Insight Guide Cuba includes a section detailing Cuba's history, 12 features covering the country's life and culture, ranging from an encounter with Fidel to dreams of Miami, a region by region visitor's guide to the sites, and a comprehensive Travel Tips section packed with essential contact addresses and numbers. Plus over 350 remarkable photographs and 15 maps.
Published: April 2011
Need a great map of Cuba? The Insight Fleximap of Cuba is a great choice for all travelers.
ISBN: 9789812822567