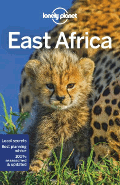 Lonely Planet East Africa Travel Guide
Price:
$32.99
You Save: $6.60 (20.01%)
The Spot for Adventure
Experience the best of East Africa, as Lonely Planet takes you from the wet and wild activities at the source of the Nile, to wildlife watching in the Serengeti, via the equatorial glaciers of Mt Kenya and Zanzibar's picture-perfect beaches.
Gentle gorillas, stampeding wildebeest, snow-capped peaks, paradisiacal beaches and an amazing array of tribal cultures - all this and more await you in East Africa, one of Africa's most enticing corners.
Clear, easy-to-use maps and inspirational photos
Safaris feature and comprehensive planning tools
Easy-to-read layout and at-a-glance practical info
Coverage Includes: Planning chapters, Tanzania, Kenya, Uganda, Democratic Republic of the Congo, Rwanda, Burundi, Understand and Survival chapters.
Published: July 2012
Next Edition: July 2015
ISBN: 9781741796728