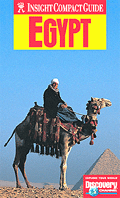 Insight Egypt Compact Travel Guide
Price:
$8.95
You Save: $1.79 (20.00%)
From the World leaders in Visual Travel Guides and the Discovery Channel
This book is packed with useful information, yet finding what you need is simple.
A map on the inside front cover clearly shows the routes suggested in the main text.
The routes allow you to follow them right through or pick only the sights that interest you,
The star system carefully grades the main attractions
Main sights in the cities are, given numbers in the text to help you to locate them quickly on the maps.
Vivid photography makes it easy to identify sights on the spot.
Practical Information on travel, food and hotels is placed handily at the end of the book.
Compact Guide Egypt includes a chapter detailing Egypt's history and culture, 12 tours taking in sights ranging from the narrow alleyways of Cairo to Thebes' sacred Valley of the Kings, leisure-time suggestions, and a comprehensive information section packed with essential contact addresses and numbers. Plus remarkable photographs and detailed maps.
Published: 2003
Need a great map of Egypt? The Freytag & Berndt Map of Egypt is a great choice for all travelers.
ISBN: 9789812348142