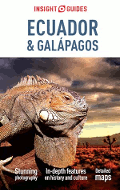 Insight Ecuador & the Galapagos Islands Travel Guide
Price:
$23.99
You Save: $4.80 (20.01%)
Reliable and Authoritative.
Insight Guide Ecuador and the Galápagos is a comprehensive, highly illustrated travel guide to a land of epic scenery, astonishing wildlife and fascinating cultural diversity.
Be inspired by the stunning photographs, Best of Ecuador section highlighting unmissable sights and experiences and lavish Photo Features describing Ecuador's fascinating culture.
A detailed Places section, with full-color maps, shows you where to go and what to do, covering the entire country, from the tropical Oriente region to the Pacific coastline.
A comprehensive Travel Tips section gives you all the travel advice you need to plan your trip, as well as our selective listings that guide you to the best and most authentic hotel and restaurants.
Accommodations - Food and Accommodation for a variety of budgets.
Tips - on adventurous ways to get around, from rooftop train rides to dugout canoe trips.
Detailed coverage of conservation issues, ecotourism and wildlife-watching opportunities.
Maps - More than 50 detailed maps.
Spanish - Latin American Spanish language section.
Wildlife - Color wildlife guide for the Galapagos.
Insight Guide Ecuador & Galapagos includes a section detailing Ecuador's history, 10 features covering the country's life and culture, ranging from its 2,000-year-old tradition of pan-pipe music to its ubiquitous bananas, a region by region visitor's guide to the sights, and a comprehensive Travel Tips section packed with essential contact addresses and numbers. Plus many 12 maps and many remarkable photographs.
Published: June 2013
ISBN: 9781780051574