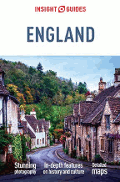 Insight England Travel Guide
Price:
$24.99
You Save: $5.00 (20.01%)
From the World leaders in Visual Travel Guides and the DiscoveryChannel
Be inspired by Insight Guide England, an essential full-color travel guide to England's rich cultural, historical, and contemporary attractions, accompanied by beautiful photography. The Best of England section highlights unmissable sights and experiences, while a comprehensive Travel Tips section gives you all the practical information you need to plan your trip.
Lavish Photo Features offer a unique insight into topics such as stately homes, local cheeses, and English gardens. A detailed Places section, with full-color maps, helps you decide where to go and guides you around the country's distinct regions, from the busy streets of London to the beauty of the Lake District.
Evocative Photography - Insight Guides are renowned for their great pictures, which vividly convey a sense of everyday life.
Incisive Evaluations - From the Tower of London and the British Museum to the hills of the Lake District, the fishing villages of Cornwall and the gardens of Kent, it's all here!
Detailed Cross-Referenced Maps - All sites are clearly highlighted and numbered in relation to the text.
Full Listings - All the travel details, hotels, restaurants, and phone numbers you'll need!
England Insight Guide includes sections on areas of interest, such as Cotswolds, East Anglia, and South Downs, as well as sections on royal palaces such as Buckingham Palace, Hampton Court Palace, and Windsor Castle. A section on castles and houses details Blenheim Palace, Bodiam Castle and Leeds Castle, and a section on parks and gardens covers Kew Gardens, Stourhead and the English Garden. Other chapters cover main towns, top attractions, transportation, accommodations, food, culture, shopping, sport, and more. This guide also contains 26 area maps.
Will you be driving in England? You need a great atlas. We recommend the Michelin Touring Atlas of Great Britain & Ireland. It is accurate and packed with info. It is spiral-bound - so it lies flat!
ISBN: 9781780051253