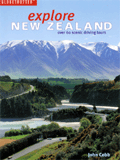 Globetrotter Explore New Zealand Travel Guide
Price:
$24.95
You Save: $4.99 (20.00%)
Over 60 Scenic Driving Tours of New Zealand
Includes:

• Clear and concise route directions
• Comprehensive and easy-to-follow maps
• Information on each tour's distance and highlights.

A comprehensive driving guide to New Zealand's North and South Islands that highlights the stunning diversity of scenery and other attractions en-route. If you've been waiting for the perfect driving guide to New Zealand, this full-sized, full-color itinerary guide from Globetrotter is it!
Explore New Zealand
Globetrotter


ISBN: 1-877246-40-9