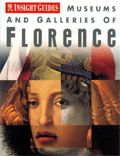 Insight Florence - Museums & Galleries Travel Guide
Price:
$17.95
You Save: $3.59 (20.00%)
Everything you need to know about the art treasures of Florence
To get the most from the city's cultural treasure-houses, you need to plan your priorities in advance. This book tells you what is really worth seeing and provides a wealth of background information which will inform and inspire.
Incisive evaluations - More than 100 museums, churches and galleries in and around the city are reviewed
Illuminating text - Expert writers graphically recount how the treasures were amassed over the centuries
Evocative photography - Hundreds of great pictures show the best of the priceless works on display
Detailed maps - Maps of the city are cross-referenced to the text to help you find locations easily
Practical advice - Eating places near museums and galleries are recommended and helpful tips are provided
Published: 2002
Need a great map of Florence? The Insight Florence Museum Map is a great choice!
ISBN: 9789812347497