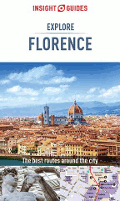 Insight Florence Travel Guide
Price:
$16.95
You Save: $3.39 (20.00%)
From the World leaders in Visual Travel Guides and the Discovery Channel
Florence Insight City Guide combines insightful writing and lavish full-color photography in a portable format with an emphasis on practical information. Inside the Florence Insight City Guide, you'll find:
Magazine-style instant orientation such as money-saving tips, activities for kids, free attractions, website addresses, and insider advice
Expert evaluations of the must-see sites, such as the Bargello, the Duomo and Palazzo Pitti, illustrated with 4-color, full-bleed photos and an emphasis on practical information
A bonus take-it-with-you mini restaurant guide and city map
An 8-12 page street atlas and street listings at the back of the guide provides a grid-referenced index to local streets
Special two-page spreads spotlighting particular topics of interest, such as Florentine Firsts, with captioned photos and floor plans
Appropriate destinations included on a detailed map of the rail lines
Comfortable, portable format ideal for people on the go
Insight City Guides are the next generation in travel guides. Lively essays by local writers, hundreds of full-color photos, dozens of maps, a user-friendly format, and expert advice on the not-to-be-missed attractions all come together in the most portable, affordable, comprehensive travel guide on the market.
Published: 2006
We recommend that you take along the Insight Fleximap of Florence. It is laminated for durability and you can mark on it with a magic marker and then just wipe the the map off to start anew.
ISBN: 9789812584007