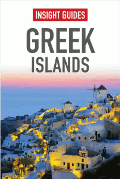 Insight Greek Islands Travel Guide
Price:
$23.99
You Save: $4.80 (20.01%)
From the World leaders in Visual Travel Guides and the Discovery Channel
Get to know your destination like a local, with these beautiful color-filled travel guides. Each is compiled by local experts, and provides informative editorials on culture, history, people, and the local gems you'll want to be sure to check out!
The "Best Of" section showcases the top sights, all in stunning full-colored photography. These wonderful Guides help you to prepare for the sights and adventures of you vacation, but also help you pick the necessities such as accommodations, restaurants, and transportation. These guides are as informative as any local, and much easier to carry!
Evocative Photography - Insight Guides are renowned for their great pictures, which vividly convey a sense of everyday life.
Illuminating Text - Expert writers bring to life the history and culture of the Greek Islands.
Incisive Evaluations - From Crete's great archeological sites to volcanic Santorini, from cosmopolitan Corfu to peaceful Aegean islets, it's all here.
Detailed Cross-Referenced Maps - All sites are clearly highlighted and numbered in relation to the text.
Full Listings - All the travel details, hotels, restaurants, and phone numbers you'll need!
Insight Guide Greek Islands includes a section detailing the history of the Greek Islands, 14 features covering aspects of the area's life and culture, ranging from bouzouki music to the art of seduction, a region by region visitor's guide to the sights, and a comprehensive Travel Tips section packed with essential contact addresses and numbers. Plus many marvelous photographs and 22 maps, including a map of the Athens Metro rail system and main ferry routes around the area.
Published: June 2010
ISBN: 9789812820693