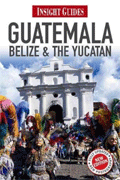 Insight Guatemala, Belize, & the Yucatan Travel Guide
Price:
$24.99
You Save: $5.00 (20.01%)
Brought to you by the Discovery Channel
The full-color Insight Guide Guatemala, Belize & the Yucatan is an essential guide to this colorful region, brought to life with hundreds of evocative photographs. Our inspirational Best of Guatemala, Belize and the Yucatan section highlights unmissable sights and experiences, while comprehensive Travel Tips give you practical information to plan your trip, and our listings select the best hotels and restaurants for you.
Colorful magazine-style features offer a unique insight into aspects pertinent to this part of the world, from Mayan ruins and Guatemalan textiles to eco-tourism in Belize. A detailed Places section with high-quality, full-color maps helps you navigate with ease, from Lake Atitlán in the Guatemalan Highlands and Belize's Barrier Reef to Chichén Itzá, one of the greatest Maya cities.
Evocative Photography - Insight Guides are renowned for their great pictures, which vividly convey a sense of everyday life.
Illuminating Text - Expert writers bring to life the region's history, culture, flora and fauna, and,above all, its people.
Incisive Evaluations - From Belize's Barrier Reef to the magnificent ruins of Tikal, from the glitz of Cancun's resorts to the perfect tranquility of Lake Atitlan, it's all here.
Detailed, Cross-referenced maps - All sites are clearly highlighted and cross-referenced with the text.
Full Listings - All the travel details, hotels, restaurants, and phone numbers you'll ever need.
Insight Guide Guatemala, Belize, & Yucatan includes a section detailing the region's history, 9 features covering aspects of the type's life and culture, ranging from the Maya World Today to Belize's Barrier Reef, a region by region visitor's guide to the sights, and a comprehensive Travel Tips section packed with essential contact addresses and numbers. Plus many high quality photographs and 25 maps.
Published: December 2012
ISBN: 9781780051093