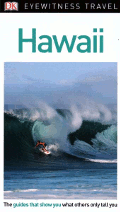 DK Eyewitness Hawaii Travel Guide
Price:
$23.00
You Save: $4.60 (20.00%)
The Guide that Shows You What Others Only Tell You
The Eyewitness Guides are packed with outstanding photographs, illustrations, cut-aways, and other visual attractions. They make great planning tools before the trip, a great take-along during the trip, and a splendid souvenir after the trip!
The Eyewitness Guides contain:
Packed with photographs, illustrations, and maps
Scenic routes and thematic tours on the five main islands
Sights, Beaches and Festivals listed town by town
Huge Selection of Hotels and Restaurants
Hawaii is the perfect island paradise, and this is the perfect guide to it. Five chapters on the main islands, plus four chapters devoted to Honolulu and Waikiki, describe all the main sights with maps, luscious photographs and detailed illustrations.
Throughout, features cover topics from national parks to surfing, volcanoes, hula and beaches. Plus, using the unique cutaway maps and 3D models, you can venture up volcanoes and explore the ancient sites on these amazing islands. And with tips on where to drink the best cocktails and to eat the freshest seafood your trip to paradise is guaranteed to be a gastronomic delight.
Expertly researched information on hotels, shops, restaurants, bars, sports and entertainments ensure all your needs are taken care of; while a survival guide section offers you practical advice on everything from posting a letter to navigating public transport.
Published: June 2015
ISBN: 9781465427052