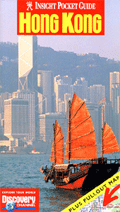 Insight Hong Kong Pocket Travel Guide
Price:
$13.95
You Save: $2.79 (20.00%)
The Guidebooks That Take the Place of a Tour Guide
This is the guide that answers the questions you'd ask a friend who lived in Hong Kong. Which places are really worth seeing? Which excursion shouldn't be missed? Written by a local host, it is based on intimate knowledge of the region.
History and Culture- Hong Kong's past and present explained in a nutshell.
Itineraries - Twelve varied itineraries cover Hong Kong's essential sights.
Shopping, Eating Out, & Nightlife - Tips on what to buy and where to eat, and where to stay out late.
Essential, Practical Information - Hotels, climate, currency, getting around, useful addresses, etc.
Detailed Pullout Map - This gives an overview of the tours and can also be used independently of the guide.
Pocket Guide Hong Kong includes a chapter detailing Hong Kong's history and culture, 12 itineraries and excursions taking in sights ranging from the Central District to the Victorian Peak Walk, leisure-time suggestions, and a comprehensive information section packed with essential contact addresses and numbers. Plus high quality photographs and maps, including a detailed pull-out map.
Published: 2003
ISBN: 9789812346957