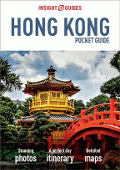 Insight Hong Kong City Guide Travel Guide
Price:
$19.99
You Save: $4.00 (20.01%)
Brought to You by the The World Leaders in Visual Travel Guides and the Discovery Channel
The book begins with an at-a-glance guide to the Best of Hong Kong, followed by chapters, written by specialists, detailing the history and culture of the former British colony. The Places section includes the low-down on all the things to see, from the crowded streets of Central and Kowloon to the open spaces of the New Territories and Outlying Islands, as well as the new casino resorts of Macau and the sights of Shenzhen and Guangzhou. All chapters are enlivened by box-out features, tips and fact boxes. The Travel Tips section provides full listings and all the practical information you'll need.
Evocative Photography - Insight Guides are renowned for their evocative pictures, which vividly convey a sense of everyday life.
Illuminating Text - Expert writers bring to life Hong Kong's history, culture, arts, politics, and, above all, it's people.
Incisive Evaluations - From The Peak to Victoria Harbor and Ocean Park, from the Star Ferry to the casinos of Macau, it's all here!
Detailed, Cross-Referenced Maps - All sites are clearly highlighted and numbered in relation to the text.
Full Listings - All the travel details, hotels, restaurants, and phone numbers you'll need.
Insight Guide Hong Kong includes a section detailing Hong Kong's history, features covering aspects of the city's life and culture, ranging from traditional feng shui to serious materialism, a region by region visitor's guide to the sights, and a comprehensive Travel Tips section packed with essential contact addresses and numbers. Plus maps and many remarkable photographs.
Published: May 2011
ISBN: 9789812823175