Insight Israel Travel Guide
Price:
$23.99
You Save: $4.80 (20.01%)
Brought to you by the Discovery Channel
Insight Guide Israel features illuminating text alongside over 250 inspiring full-color photographs that will bring Israel's people and places to life. A special 'Best of' feature highlights the top attractions not to be missed, including Jerusalem's Old City, Bethlehem, Nazareth, and diving in Eilat, plus the best beaches, markets, walks, and money-saving tips.
From the key sites rich in history and religious significance, to the simple pleasures of a Dead Sea mud bath and a walk along a beautiful beach, all of Israel's attractions are included to ensure you experience the very best of this diverse destination, whatever your interests.
An in-depth 'Places' section covers the entire country, from the pastoral landscapes of the bible to the modern buzz of Tel Aviv, and we devote four chapters to the West Bank. All the principal sites are cross-referenced by number to full-color maps for easy navigation. You will also find fascinating chapters on the country's history, people, religion, cuisine, art and much more.
A comprehensive 'Travel Tips' section provides essential information for planning your trip, covering transportation, accommodations for all budgets, eating out, nightlife, shopping, and much more. The unique combination of insightful exploration and practical advice makes this guide a real pleasure to read before, during and after your visit.
Inside the Israel Insight Guide you'll find:
Evocative Photography - Insight Guides are renowned for their great pictures, which vividly convey a sense of everyday life
Illuminating Text - Expert writers bring to life the history and culture, deserts and beaches, and, above all, the people
Detailed, Cross-referenced Maps - All sites are clearly highlighted and numbered in relation to the text
Expert evaluations on the sights really worth seeing such as Haifa, Safed, the Garden Tomb, the Western Wall, Megiddo, and the Dead Sea
Special features spotlighting particular topics of interest including the city markets, holy sites and Israel's Four Seas
Full Listings - All the travel details, hotels, restaurants, and phone numbers you'll need
The Insight Guide of Israel provides everything you'll ever need in a guidebook. It is an inspiring background read, an invaluable on-the-spot companion, and a superior souvenir of your visit.
Published: July 2012
Need a great map of Israel? The Freytag & Berndt Map of Israel and the Sinai is a great choice!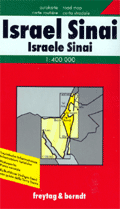 ISBN: 9781780050775