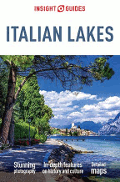 Insight Italian Lakes Travel Guide
Price:
$19.99
You Save: $4.00 (20.01%)
A Visual Guide to Italy's Lakes
Insight Guide Italian Lakes is an essential full-color travel guide to one of Italy's most beautiful regions, with stunning travel photography on every page.
Be inspired by the Best of Italian Lakes section, which highlights unmissable sights and experiences, and lavish Photo Features.
A detailed Places section, with full-color maps, shows you where to go and what to do, from the resorts of Lake Garda, fabulous Verona, the city of Romeo and Juliet, and fashion capital Milan.
A comprehensive Travel Tips section gives you all the travel advice you need to plan your trip, with selective listings for hotel and restaurants.
The contents cover history, art, architecture, wildlife, top sights, castles, wine and oil routes, rock art, the silk industry, places to stay, restaurants and bars, nightlife, annual events, shopping, celebrity residents, and more. Although there's much coverage of the region's more than a half-dozen lakes, Lake Como and Lake Garda being the most familiar, there's also extensive information about the lake country cities of Verona, Lugano, and Milan.
Illuminating text - Expert writers bring to life the Lake's history, culture, people and, above all, its beauty
Incisive evaluations - Including Verona and Milan as well as Lake Garda and Lake Como and the smaller lakes and towns around them
Evocative photography - Insight Guides are renowned for their great pictures, which vividly convey the atmosphere of the region
Picture stories of the region's themes - Detailed photo-features reveal beautiful lakeside gardens and stylish shopping in Milan
Detailed, cross-referenced maps - All the main sites are numbered in the text and on the maps
Full listings - All the travel details, hotels, restaurants, websites and contact numbers you'll need
Published: March 2013
ISBN: 9781780051307