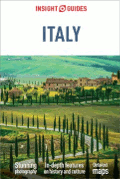 Insight Italy Travel Guide
Price:
$23.99
You Save: $4.80 (20.01%)
From the World leaders in Visual Travel Guides and the Discovery Channel
Full-color travel guide to the whole of Italy, including the islands of Sicily and Sardinia, with comprehensive descriptions of all sights and attractions, and practical information.
This guide covers the whole of this huge country, with full-color photographs and maps throughout. The Features section focuses on Italy's rich history, its dynamic people and its amazing culture, covering subjects ranging from food, wine and opera to football and fashion. The Places section covers the whole of the country in detail, from the beautiful lakes region in the north to the Roman towns of Sicily in the south.
Evocative Photography - Insight Guides are renowned for their great pictures, which vividly convey a sense of everyday life.
Incisive Evaluations - From the Alps to Apulia, and from the treasures of the Uffizi to the pleasures of Udine, it's all here.
Detailed Cross-Referenced Maps - All sites are clearly highlighted and numbered in relation to the text.
Full Listings - All the travel details, hotels, restaurants, and phone numbers you'll need!
Insight Guide Italy includes a section detailing Italy's history, many features covering aspects of the country's life and culture, ranging from high fashion to pizza and parmesan, a region by region visitor's guide to the sights, and a comprehensive Travel Tips section packed with essential contact addresses and numbers. Plus many impressive photographs and lots of maps.
Published: July 2011
Are you planning to drive in Italy? Take a look at the Michelin Road and Touring Atlas. It will get you where you want to go with a minimum of hassle.
ISBN: 9789812823427