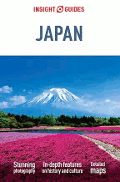 Insight Japan Travel Guide
Price:
$24.99
You Save: $5.00 (20.01%)
From the Leaders in Visual Travel Guides and the Discovery Channel
Insight Guide Japan is a comprehensive, full color travel guide to one of Asia's most fascinating destinations. The Best of Japan section highlights unmissable sights and experiences, while a comprehensive Travel Tips section gives you all the practical information you need to plan your trip.
Lively essays on Japan's culture, history and people set your trip in context. Lavish Photo Features offer a insight into what makes Japan unique: its tranquil gardens, sumo wrestling, super-efficient trains, kimonos and shintoism.
A detailed Places section, with full-color maps, helps you decide where to go and guides you around the country's distinct regions, from the frenetic streets of Tokyo to the soothing hot springs of Hokkaido.
Evocative Photography - Insight Guides are renowned for their evocative pictures, which vividly convey a sense of everyday life.
Illuminating Text - Expert writers bring to life Japan's history, culture, landscapes, and, above all, it's people.
Incisive Evaluations - From Tokyo's Ginza to Kyoto's ancient capital, from the heights of Mt Fuji to the tranquil forests of Hokkaido and serene islands of Okinawa, it's all here
Detailed, Cross-Referenced Maps - All sights are clearly highlighted and numbered in relation to the text.
Full Listings - All the travel details, hotels, restaurants, and phone numbers you'll need
Insight Guide Japan includes a section detailing Japan's history, features covering aspects of the types of life styles and culture, ranging from Performing Arts to Cuisine, a region by region visitor's guide to the sights, and a comprehensive Travel Tips section packed with essential contact addresses and numbers. Plus many high quality photographs and many maps.
Published: January 2013
ISBN: 9781780050331