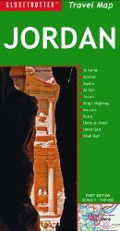 Globetrotter Jordan Travel Map
Price:
$8.95
You Save: $0.89 (9.94%)
User-Friendly Map specially designed for Visitors
Globetrotter Map Jordan highlights the scenic routes, showing nature reserves, parks, dive sites and places of interest. They include town plans of major tourist centres, showing hotels, climate charts, distance charts and calendars of events. The fold-out map of Jordan is ideal for tourists and visitors. In addition to the main map of Jordan, which highlights places of interest, it features 5 full-color town plans and 3 site plans.
Includes:
Al-Karak (1:8,800)
Amman (1:14,200)
Aqaba (1:13,000)
As Salt (1:7,900)
Jerash (1:9,500)
Jordan (1:730,000)
King's Highway (1:1,100,000)
Madaba (1:8,5000
Petra (1:26,000)
Umm al-Jimal (1:6,500)
Umm Qais (1:6,500)
Wadi Rum (1:138,000)
Also includes regional climate charts, full-color photos, and a concise place names index.
ISBN: 9781845375683