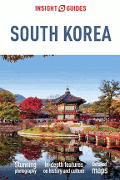 Insight South Korea Travel Guide
Price:
$23.99
You Save: $4.80 (20.01%)
From the Leaders in Visual Travel Guides and the Discovery Channel
Get to know your destination like a local, with this beautiful color-filled travel guide. It is compiled by local experts, and provides informative editorials on culture, history, people, and the local gems you'll want to be sure to check out!
The "Best Of" section showcases the top sights, all in stunning full-colored photography. This wonderful Guide helps you to prepare for the sights and adventures of you vacation, but also help you pick the necessities such as accommodations, restaurants, and transportation.
Evocative Photography - Insight Guides are renowned for their evocative pictures, which vividly convey a sense of everyday life.
Illuminating Text - Expert writers bring to life Korea's history, culture, landscapes, and, above all, it's people.
Incisive Evaluations - From the misty peaks of Seoraksan to the neon lights of downtown Seoul, and from the beaches of Jeju-do to the temples of Gyeongju, it's all here
Detailed, Cross-Referenced Maps - All sights are clearly highlighted and numbered in relation to the text.
Full Listings - All the travel details, hotels, restaurants, and phone numbers you'll need
Insight Guide Korea includes a section detailing Korea's history, features covering aspects of the type's life and culture, ranging from Traditional Architecture to Performing Arts, a region by region visitor's guide to the sights, and a comprehensive Travel Tips section packed with essential contact addresses and numbers. Plus maps and many remarkable photographs.
Published: March 2011
ISBN: 9789812821805