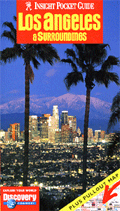 Insight Los Angeles Pocket Travel Guide
Price:
$13.95
You Save: $2.79 (20.00%)
From the World leaders in Visual Travel Guides and the Discovery Channel
Insight Pocket Guide Los Angeles is the guide that answers the questions you'd ask a friend who lived in Southern California. Which places are really worth seeing? Which excursion shouldn't be missed? If time is short and you need to make the most of it, this is the book for you!
History and Culture - the past and present of Southern California explained in a nutshell.
Itineraries- Four full-day itineraries cover the city. Included excursions take you to Disneyland, Pasadena, South Bay, Catalina, Santa Barbara, Palm Springs and San Diego.
Shopping, Eating Out, & Nightlife - Tips on what to buy and where to eat, plus sport and children's activities.
Essential, Practical Information - Hotels, climate, currency, getting around, useful addresses, etc.
Detailed Pullout Map - This gives an overview of the tours and can also be used independently of the guide.
Pocket Guide Los Angeles includes a chapter detailing Los Angeles's history and culture, 11 itineraries and excursions taking in sights ranging from the brass-and-coral terrazzo tiles of the Walk of Fame to glittering Rodeo Drive, leisure-time suggestions, and a comprehensive information section packed with essential contact addresses and numbers. Plus many high quality photographs and 7 maps, including a detailed pull-out map.
Published: 1998
ISBN: 9780887298950